Craftsmanship
Fine Porcelain
Apothecary + Fragrance
Metals
Premium Materials
Oficina Candle
About L'OBJET
L'OBJET creates designs for the home that are both luxurious and functional works of art, crafted with the highest degree of excellence and quality. The proprietary techniques used set L'OBJET apart from all others. Every piece bearing the mark of L'OBJET has been touched by the hand of an artisan, many using techniques that have been passed down for generations.
MAKING L'OBJET HAAS BROTHERS
The design team at L'OBJET worked on a series of shapes for scale and function, which the brothers used as canvases for their creative fantasies.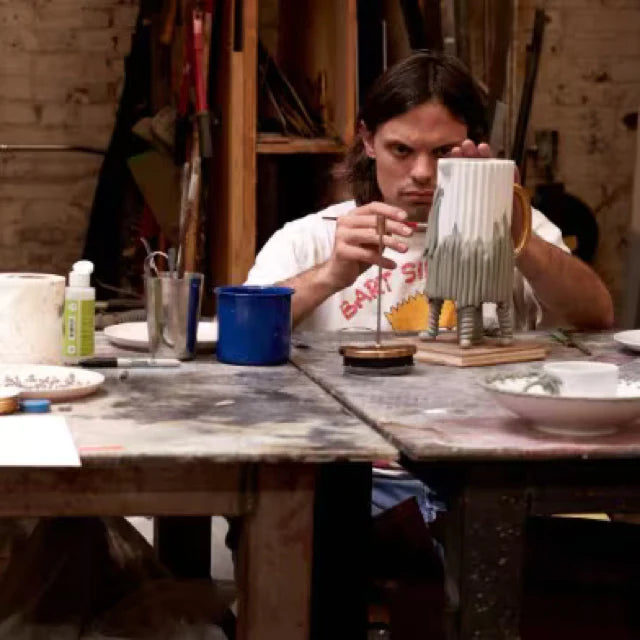 3D-printing enabled the designs to transport from the Brothers' studio in LA to the L'OBJET porcelain atelier in Portugal. Together with Elad, the brothers flew to Portugal to manually work and sculpt each prototype by hand before molds were made ready for porcelain pouring. Beyond mere quality control, they needed to feel just right — something that had to be evaluated with eyes and fingers. It is no exaggeration to call these pieces handcrafted, because every stage of every process involved the human touch. The tendency of technology to replace the beautiful inefficiencies of the human hand is a touchy subject that feels a little nostalgic. Here, L'Objet and the Haas Brothers have mastered a balance of retaining the hand as the primary tool, while still using technology to support a complex and precise process. The machine has enabled the hand, not obscured it.